Tim Eyman's Initiative 976 and All The Lies
Voters in Washington State voted for 30.00 car tabs years ago, but the elected leaders in our state raped and pillaged the entire law as it stood.
Much like they've done to the public records act. If the voters pass something they don't like they immediately get to work and knock it down, amendment by amendment until it is dead in the water.
Now voters are faced with a constant barrage of lies and innuendos from the Washington State Patrol – WSP, The Washington State Department of Transportation – DOT, among many other agencies.
Problem is that the voters long ago decided that the car tabs shouldn't be used for all of these special interests.
The DOT's claims are at best, rooted in political fantasy, at worst absolute lies. They are citing to the Skagit River Bridge collapse as proof of needed funding.
The Skagit River Bridge was hit and it failed because they had people inspecting it who were no more qualified than I am to do brain surgery even though they claim their inspection standards are "meticulous". Please note that they have updated a list of "poor" bridges as of April, most of those bridges weren't even mentioned before
A whistleblower engineer tried to warn his superiors of that bridge, and many others, including a few levees and dykes that are currently failing. I'll be posting a story about that as well.
The DOT's response was to ostracize him, file false charges against him, go after his license and completely discredit him.
He contacted every major media outlet in this state and not one mentioned they had been forewarned about the Skagit Bridge and to my knowledge have never done a story about the other at risk structures.
While the Stranger seems to think that Eyman is some type of devil's spawn he has created some real change in this state. I have watched the constant attacks on him throughout the years mostly amused.
This is the full text of the bill (click on the pic)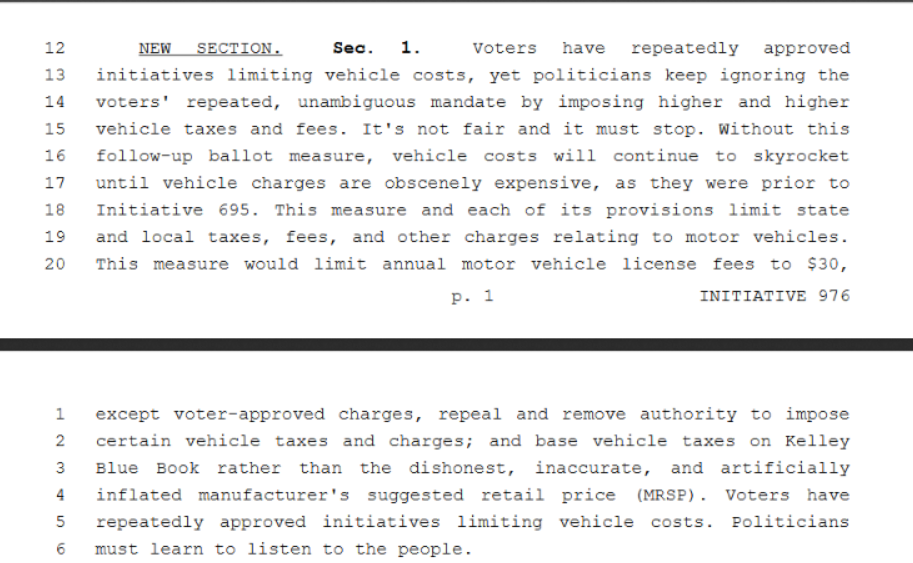 Keep Washington Rolling AKA No on I-976 has rallied the Washington State Patrol using tax payer funded uniform and cars, as an trooper lies about the impact of 976.
Since they think there might be a chance we won't be sympathetic to the govt over charging tax payers 160 million per year they vaguely claim it is going after the weakest, the poor, the elderly, the disabled etc… but they offer no proof, and do not name any specific programs in typical scare tactic propaganda
Of course the city of Everett Mayor gets in the mix, which was sadly disappointing
The other big player in this wallet dive is Community Transit and Sound Transit. Who are nothing more than a fencing operation for construction companies, and family members.
I would invite any of my readers to do a public records request on all of their vehicles and equipment.
They replace most of it every year, while most of it goes unused, just to be auctioned off so they can whine to the public that they need to buy more stuff. The real story is who buys up all this equipment for pennies on the dollar.
This is basically about 4 stories I've been meaning to do all at once, I will get around to them as soon as I can though.
Please don't buy into the scare tactics that are so popular this time of the year. Use your own judgement and do your own research.